MRS4300104300 : R15C Portable screening middle ear analyzer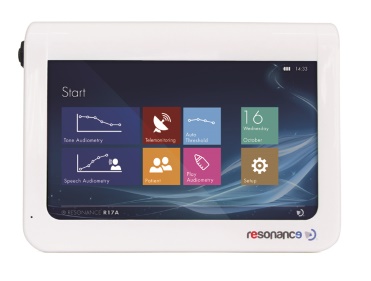 MRS4300104300 : R15C Portable screening middle ear analyzer
---
MRS4300104300 : R15C Portable screening middle ear analyzer
---
GENERAL SPECIFICATIONS
DIMENSIONS AND WEIGHT
L x W x H: 180x135x41 mm

Net weight: 570 g.

Body material: self-extinguishing ABS UL 94 V0
TEST TYPES
Tympanometry, Reflexes, Decay with non acoustic monitor, nr.1 Quick Test with editable protocols, ETF for intact membrane and patulous  ET, High Frequency Tympanometry

Pure tone Audiometry
DISPLAY
7" TFT Resistive touch screen display


800 by 480 resolution at 133 pixels per inch (ppi) 262K colors
USER INTERFACE
Intuitive icon system

Internal patient database
REPORTS
Data transfer to PC with Resonance Management Data Suite installed

Dedicated report template
DATA TRANSFER TO PC
USB PORT
Nr.1 USB host type A (pen drive connection for software upgrade)

Nr.1 mini USB slave
WINDOWS® COMPATIBLE SOFTWARE
Resonance MDS Management Data Suite
MAIN SYSTEM COMPONENTS
Operative system: Microsoft® Windows® Embedded Compact

CPU: TEGRA® 2 dual core @ 1Ghz
POWER
POWER SUPPLY 
Built-in 3,6V/3,1 Ah rechargeable lithium-ion battery

External Medical power supply/charger: Input 100-240Vac / 0,3A - 50/60Hz; Output +5Vdc / 2A
CONSUMPTION WITH RECHARGEABLE BATTERY
Up to 2 hours of continuous testing.

Charge time with external medical power supply: up to 80% in 2 hours
ENVIRONMENTAL
OPERATING ENVIRONMENT
Storage: -20° C up to +50° C

Operating: +15° C up to +35° C

Humidity: up to 90%, (non condensing)

Ambient pressure: from 700hPa up to 1060hPa
TYMPANOMETRY OPERATING SPECIFICATIONS
PROBE TONE
226 and 1000 Hz

Measured components: Admittance (Y), Susceptance (B) and Conductance (G)

The probe is supplied in handheld mode
INTENSITY
226 Hz: 85dB SPL ± 2dB

1000 Hz: 75dB SPL ± 2dB

Frequency Accuracy: ± 0,5%

Harmonic Distortion (THD): Less then 1%
ADMITTANCE MEASUREMENTS
Compliance range at 226Hz: 0,05 up to 7ml

Sensitivity scale: Auto Scales to appropriate range, available scale at 226Hz 1, 2, 5 and 7ml

1000 Hz: 0 to +25 mmho

Sensitivity scale: Auto Scales to appropriate range, available scales 5, 10, 15, 20, 25 mmho
AIR PRESSURE
Control: Automatic

Range: two selections available: +100/-200 daPa or +200/-400 daPa

Pressure accuracy: ±10 daPa or ±10%

Sweep rate: automatic adaptive speed control or fast (200 daPa/sec)

Indicator: Measured value is displayed

Safety limitations: -750 up to +550 daPa
EUSTACHIAN TUBE FUNCTION
ETF test for use with intact eardrums and patulous ET
ACOUSTIC REFLEX TESTS
Reflex test method: Threshold and Fixed level

Stimulus duration: 0,5 or 1 sec.

User selectable protocols for all test methods

Ipsi or Contralateral stimulation for all reflex test

Automated peak search functions available for Quick Test

Reflex Decay: Manual

Stimulus duration: 10 or 20 sec.
FREQUENCIES AND INTENSITY RANGES
Ipsilateral: - Pure tone level range (dBHL) from 50 to 100

Frequency: 500, 1000, 2000, 4000 Hz

Accuracy: ±1%

Harmonic distortion (THD): less than 3%
Contralateral: - Pure tone level range (dBHL) from 50 to 115

Frequency: 500, 1000, 2000, 4000

Accuracy: ±1%

Calibration accuracy ±3 dB

Level steps: 5 or 10 dB

On/Off ratio: 70 dB minimum
AUDIOMETRY OPERATING SPECIFICATIONS
RANGE
Frequency range (AC): 125 - 8000 Hz
ACCURACY
Frequency < 0,5%

Distortion < 1%

Crosstalk >70dB

Attenuator linearity 1dB per 5dB step, max 3dB whole range

Range stimuli level -10 up to 105 dB HL
TYPE OF SIGNALS
Pure tone: sine wave 125 to 8Khz signal

Warble: +/- 5% frequency sine wave modulated, modulation: sine wave 5 Hz

Narrow band noise: 24dB/oct filtered noise

On/Off rise – fall time: 40msec
OUTPUT TRANSDUCERS
ACR, ACL: 10 ohm DD45 matched pair earphone
STIMULUS PRESENTATION MODALITY
Presentation: Normal

Modality: Steady, Pulsed (rate 2 Hz)

dB step variation: 1dB, 2dB, 5dB.
QUALITY SYSTEM
Manufactured, designed, developed and marketed under an ISO 13485, ISO 9001 certified quality system. Medical CE marks.
COMPLIANCE/REGULATORY STANDARDS
Designed, tested and manufactured to meet the European and International Standards:
MDD 93/42/EEC and update 2007/47/CEE: Class IIa (as referred to in Annex IX, rule 10 of said MDD 93/42 EEC )

Safety: IEC 60601-1, 3rd edition, Class II Type BF

EMC: IEC 60601-1-2

Impedance: IEC 60645-5 and ANSI S 3.39 Type 2

Audiometry: IEC 60645-1 and ANSI S 3.6 Type 4
STANDARD ACCESSORIES
Probe HF

Insert for Contra

Kit of assorted ear tips; size from 6 mm up to 15 mm

Calibration cavity

DD45 Headphones

Build in talk over micophone for patient communication

Resonance® MDS Software

Medical Power supply (100Vac – 240Vac)

Carrying bag

Charging Cradle

Pen Drive (with Multilingual Quick user's handbook)

Touch screen pen
OPTIONALS
Headband with DD45 for Contra

EAR3-/5A, IP30 insert earphones for AC use

Re-Play audiometry for children

VTMR audiometry test for adults

Insert earphones for Contra use

External USB Keyboard

USB Videotoscope

Wallmount kit