P35F1.3X2-COMPLETE : PRO 35F Soundproof booth, external dimension 132 x 211 x 217 cm, containing external folding table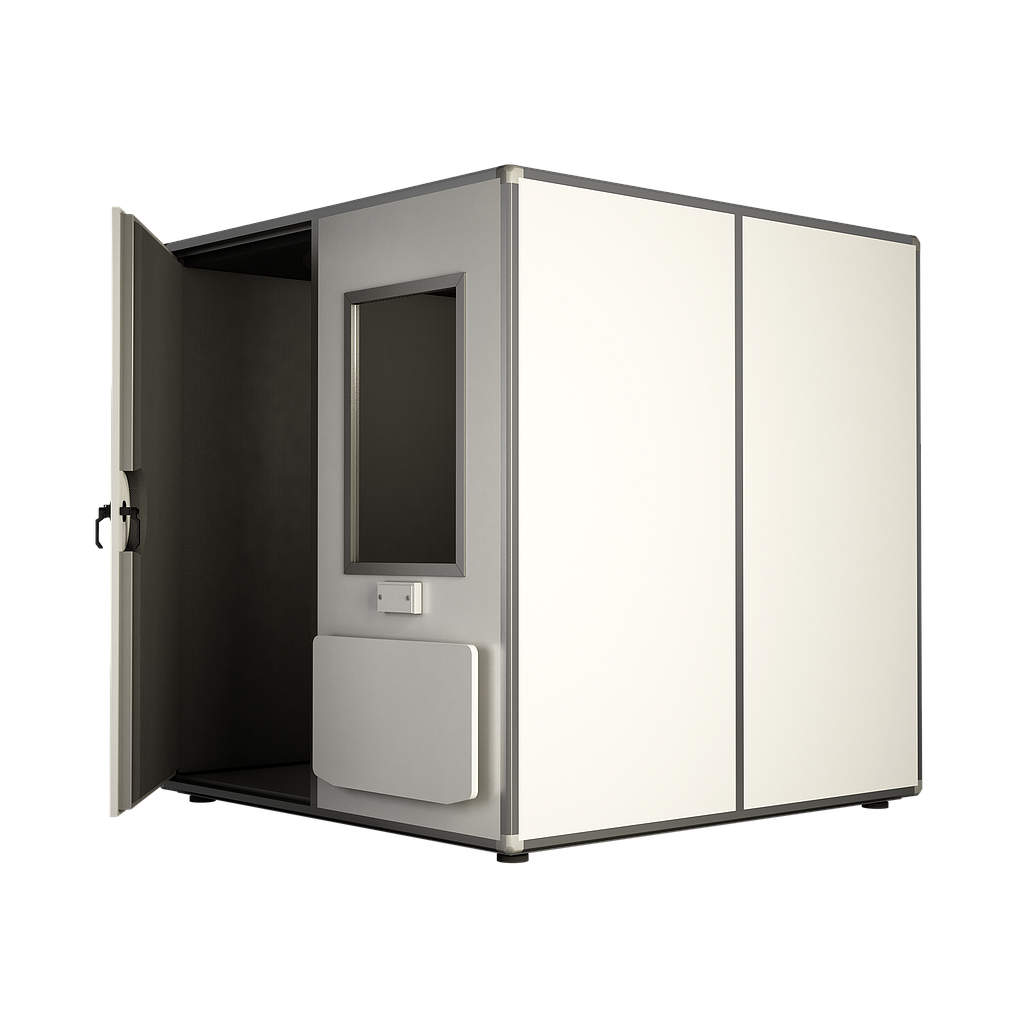 P35F1.3X2-COMPLETE : PRO 35F Soundproof booth, external dimension 132 x 211 x 217 cm, containing external folding table
---
P35F1.3X2-COMPLETE : PRO 35F Soundproof booth, external dimension 132 x 211 x 217 cm, containing external folding table
---
Applications
PRO35F line is recommended for hearing screening and diagnostic tests in audiology centers. The modular solutions are suitable for different applications and exams such as Free Field test.
Structure
The structure of the cabin is made of a supporting aluminium frame insulated by acoustic materials.
Exterior
The exterior finishing is made of a white highly-resistant, fireproof, washable panel.
Interior
The interior finishing is made of a special soundproof fiber covered with a new elegant, fireproof, washable and very resistant fabric for a perfect acoustics.
Door
The door is large for easy access with wheel chairs, beds and stretchers. Clear opening 90 x 200 cm (w x h), (60 cm clear opening width for P35F1X1).
Window
The window is large to provide better visibility to the doctor. It helps to eliminate that closed-in feeling for the patient. The window consists of a special double safety glass. Clear view 56 x 88 cm (w x h).
Floor
The floor is layered with different materials and it stands on anti-vibration adjustable feet. Finishing: technical, antistatic, fireproof, washable carpet.
Ventilation system
Air ventilation (optional equipment) is guaranteed by a silent forced ventilation system mounted on top of the booth. *(outside cabin height 242 cm). Air ventilation system can be also installed on the walls to save space in height.
Connecting instruments
Cables are laid through a new universal soundproof panel without jack connection. All kinds of cables can be used without the need to be cut. Adaptable to all types of instruments. Hangers for earphones are included.
Electrical system
Switches for lighting and ventilation are separated. Lighting is ensured by a LED light with low energy consumption. Power supply: 86/265 V. - 50/60 Hz.
Noise reduction
PRO35F line is tested at the Technical-Physics Laboratory C.S.I. S.p.A. (Milano-Italy) accredited by ACCREDIA.
*Product conforms with international UNI EN ISO 8253 1:2010 with a background noise no greater than 64dB (at 500Hz) assuming a noise barrier headset (audiocups) is used.
Acoustic insulation

| | | | | | | | | | |
| --- | --- | --- | --- | --- | --- | --- | --- | --- | --- |
| Hertz | 125 | 250 | 500 | 1000 | 2000 | 3150 | 4000 | 6300 | 8000 |
| dB | 15.4 | 25.5 | 31.5 | 38.2 | 35.4 | 37.5 | 40.1 | 44.1 | 41.6 |
Optional equipment
Air ventilation system

Wall ventilation support

External folding table (79 x 50 cm)

Internal folding table (79 x 32 cm)

Ramps for easy access

Audiocups

Kit 10 or 6 jack cable extensions

Jack panel (10 jack + USB)

Modification Voltage 110 V.

Emergency light

Internal power sockets

Wall audiometer support

Internal seat

Floating floor

Laminate floor

Additional windows (w x h, cm): 25 x 176; 56 x 88; 120 x 56

Window on door 25 x 56 cm (w x h)

Additional door 60/90 cm opening

Special sizes

Free Field configuration pack
Packaging
Delivered for shipping in a ISPM wooden case with DIY kit.
Installation
Easy and quick to install in DIY kit; no specialised staff required. Just follow the instructions. Positionable on any floor. The installation needs 10 cm overall each side (l x w x h).
Notes
The materials are fireproof at the origin. Specifications are subject to change without notice. Warranty: limited to one year from delivery date.
Standards
Medical Device Class I - MDD 93/42/CEE
2007/47/CE - CEI 64/11
CEI 64/8 - 2006/95/CE
UNI EN ISO 8253 1:2010